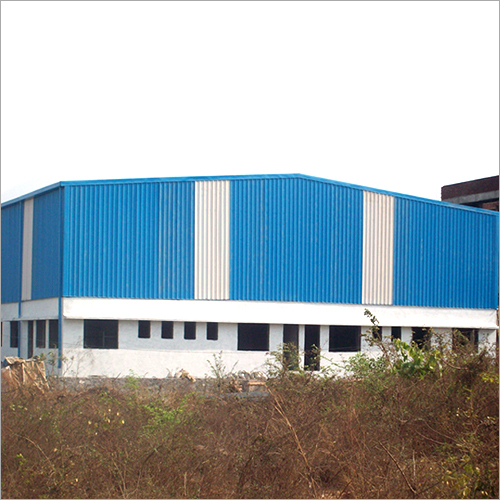 Pre Engineered Building
Product Code : 03
Product Description
We provide complete building systems, designed to be airtight, best in weight & cost, energy-efficient and durable. Most importantly, they are designed to meet user requirements. The versatile building systems serve all functions. They are advantageous over conventional buildings. Usually, Pre engineered buildings are low-rise buildings. These are ideal for offices, showrooms, shop fronts, houses, etc. There is economical and speedy concept. With minimum time for construction, the buildings are suited for any type of geographic location.
Advantages
:
Reduced Construction Time: With reduction in foundation requirement, there is approximately 50% reduce in total construction time. This ensures faster occupancy and early revenue realization.
Lower Cost: With the system approach, there is a good saving in design, manufacturing & on-site construction cost. Here the transportation cost is also reduced.
Flexibility of Expansion: The buildings can be easily expanded. Expansion in length, width and height is possible. Also, there is pre designing for future expansion.
Quality Control: Completely manufactured in the factory under controlled conditions, the buildings are quality assured. They are perfect in design, construction and finish.
Low Maintenance: Made with high quality finish systems for cladding etc., the buildings require very low maintenance. The steel construction suits ambient conditions. Hence there is low maintenance costs and long durability.
Energy Efficient Buildings: Energy efficient roofing & wall systems with exceptional insulation.
Architectural Versatility: The building can be provided with different canopies, fascias, curved eaves, and configured to receive wall panels, curtain walls, etc.

Key Benefits of PEB:
Ideal for future expansion or modification.
Weather proof construction.
Optimized steel design, reducing weight.
Fast turn-key construction, saving approximately 30-40% of project time.
Low maintenance requirement.
The building can be easily dismantled / relocated.
Cost competitiveness and increased life-cycle performance.
Simple integration of construction materials
Energy efficient insulation.
Suitable for diverse geographical areas.
Contact Us
Plot No. 163,164 New Housing Colony, Phase 3, District: Solan, Baddi, Himachal Pradesh, 173205, India
Phone :+917259189458